| | |
| --- | --- |
| | |
| | |
This memorial site was created in the memory of our beloved Wesley Roy McGoldrick who was born on Thursday 3rd July 1980 at 12.20pm and left us on Tuesday 19th April 2005 at 14.20pm. He was 24 years old.
You've taken your wings,Soaring to the heavens,Not a care do you have,Your eyes on your maker. Your troubles are over,No sorrow or fear,The angels are with you,As you walk the streets of gold. Though in body you're gone,Your spirit will always abide,Like a shining light, a ray of hope,Ever present in our hearts.
Wesley is a much missed Son, Grandson, Brother, Nephew, Cousin, Uncle and Friend.
MESSAGE FOR "EMMA"
did not get your e-mail!
are you the same Emma i think you are?
try again or use the contact link on the right hand side!!
He was a true fan of Liverpool Football Club and his brother Greg gave him a wonderful floral tribute to mark this which can be seen in the photo album.
Wesley WAS and IS......."ONE OF A KIND"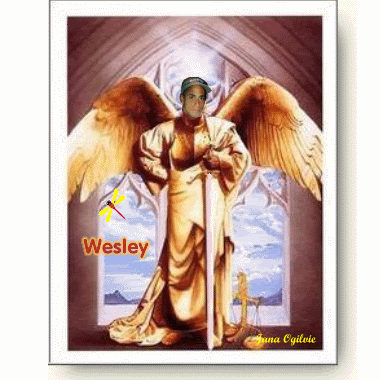 Today 22nd April 2006
Liverpool fc
through to the fa final
Well Done Lads!!
Today 14th May 2006
Liverpool fc
WON the fa cup final
CONGRATULATIONS
(Wes, we knew they would do it)



Today, 24th March 2006
I have for the first time written about Wesleys life and death. You are welcome to read it. I have put it on his Legacy page.....


Hey look at me Mom, I'm an Angel now
Standing at Heaven's door
Can't you see me?
Watch me as I soar!
I'm at total peace now
Don't cry for me very long
I'm here in the Lord's embrace
Right where I belong
I must be very special
God called for me so soon
Look and listen closely
You may hear my Angel's tune
Nothing can hurt me now Mom
I just wish that you could see
My wings are fastened tightly
And I'm all that I can be!
I can now watch over you
To guide you along your way
My love will still surround you
Each and everyday.
I have to go for now
There's so much to be done
God's work is never ending
And I've only just begun.


There are times when we feel isolated and alone; we can appreciate the beauty around us but can not feel it in our hearts
Knowing that love is eternal, whether together or apart, helps us to be aware that we should never have to stop loving those who are dear to us.And wesley my son while am here without you
i will never forget you my lovely son


There are times when the night brings a darkness not of vision, but a darkness of the heart. And those nights, when they come, seem to last forever i miss you wesley


We walked together, you and I.
A mother and her son.
We had hopes and dreams for tomorrow,
But tomorrow didn't come.
We walked together, you and I.
We talked, we laughed, we loved.
We shared so many happy times
And for that, I thank the lord above.
We walked together, You and I,
But only for a short time.
For all too soon it ended
Leaving pieces of broken hearts behind.
And even though I miss you,
More than words can say,
I thank God that I got to walk with you
Every precious moment of every day....


Our life changed that day I found out you were there
Beginning your life, so small unaware
What would you be like
Would we know what to do
Would I be a good parent
And take care of you
I prayed only good things would happen for you
That you'd be successful in all that you do
You would find happiness, love and respect
A life rich and full without any regrets
But life was stopped short It was you time to leave
The angels arrived, but In our hearts we believe
You're safe and secure Without worry or care
Know your family's protected We will always be there
wesley, your life was a challenge Yet, we knew you'd be great
Every night we thanked God That He could create
Someone so special Like there was no other We'll love you forever...


Wesley I know that you are at peace,
It helps so much to set our hearts at ease.
We loved you more than anyone could know,
It hurt us so bad to have to let you go
But i know God knows what's best
That's why he put my son to rest.
We cry and think of you every day
It just doesn't seem fair for God to take you away.
I'm trying to find comfort in all of my grief
And it does help knowing you've found great relief,
For now you are free from all suffering and pain,
So my great loss, became your great gain.
But we know , you are safe in God's land above,
Where there is nothing but peace and love.
We know that some day we all have to die,
It makes us so happy,
knowing you'll be waiting for us in the sky.
Jesus Loves You And So Do We
WITH LOVE TO MUM FROM WESLEY


ONE YEAR AGO TODAY
One year ago today,
I remember it like it was yesterday,
Myself & Alan had gone to bed about 11.30pm along with Prince (the dog),My other son, Greg was on vacation in India, the dog always sleeps with him but as he was away, he was in with us.
We all slept, untill Approximately, 01.00am.this is when my cell phone rang. I didn't have my glasses on so couldn't see who the caller was and was passing the phone to Alan to answer it…it was Michael…Michael is my daughters partner.As Alan is speaking into the phone, half asleep, I thought I could hear voices From outside.It was Michael, phoning to wake us and to open the front door. I was cross…why would anyone be phoning at this time and asking to be let in the front door?The dog has now started barking because someone is at the front door so I tell him to be quiet as I walk down the stairs, still cross….Opening the door, I see Michael, still talking to Alan on the phone,Then I notice my daughter, Claire, crying…..There is obviously something wrong but I can't figure out what….I notice 2 young police officers behind Claire and realise something is seriously not right here so I call to Alan to come downstairs.I noticed that Claire and Michael didn't have my grand daughter, Kai, with them And immediately thought that it was to do with her.I couldn't get anything out of Claire, she was too distraught.I ask "where is Kai? What's happened to her"Nothing…Now I start raising my voice and getting angry because no-one will tell me anything,They are just looking at me and looking at Claire.Eventually we all walk into the living room but still no-one is talking or telling me anything…just Claire sobbing….
Claire manages to speak…..Sorry, sorry sorry
That's all she can manage
Again I keep thinking it's my grand daughter
But then Claire tells me that Wesley has been found dead……
I look round at everyone and they all say Sorry I didn't cry
I didn't faint ,I didn't do anything,I asked the police officers
When? Sorry we don't know I asked where?
Sorry we don't know I asked how?Sorry we don't knowThey didn't know a lot, I was angry with the fact that they knew nothing
Why had they bothered coming to my house in the middle of the night and not be able to offer me any information??I asked them to leave, sat on the sofa, holding Claire.
I still didn't cry, I just said it's ok, everything will be fine.
After some time I went upstairs and ran a bath.
I sat in that bath for some time, I think, because Alan knocked on the bathroom door to see if I was ok and said I'd been there for quite a while.I went back downstairs and decided to let Claire & Michael go home,They had Kai to collect from a friends house, they could come back later…I sat for what seemed like forever, trying to take in what I'd just been told,Then told Alan to go back to bed and try to get a couple of hours sleep there was nothing he could do right now.I spent the rest of the night walking and smoking ,Walking round in circles
Walking up and down the garden,Thinking, I should phone someone, but it was so late…Nothing could be done so there is no point waking everyone else up at this time.I decided to wait till a decent hour when I knew my dad would be getting up for work.As always, when I phoned him he came straight over.I made some tea and we just stood in the garden.There was nothing to say anyway because no-one knew anything.It was pointless trying to ask me questions I had no answers.Dad left and said he'd come back later
(he wanted to let everyone else know the news)
It was still too early in the morning to be phoning the authorities to find out the "whens" "whys" "hows"
So I cleaned…..I cleaned the kitchen,Washed the floors
Put the laundry on Etc Nothing else I could do…..Alan woke and I made yet more tea.Then he made "The Phone Call"It turns out that Wesley was in Brixton prison from the day before and had hung himself…………So that was it
My youngest Son had hung himself and that was the end of that
I still didn't cry.I have cried since then but I haven't begun grieving yet.I needed to get a lot of things out of the way before I could allow myself to grieve.Body to identify Funeral to organise
Flowers to arrange ,People to inform
Belongings to collect from the prison.Wesleys first birthday away from me,Wesleys first Christmas away from me. Numerous visits to my solicitor to get ready for the inquest,Many many reports to read over and go through,Again for the inquest
The daily journey to London for the inquest.Easter without Wesley
Wesleys first anniversary
19th April 2006
today is that day
maybe now I can begin to grieve??All is not over yet as there is still another court case to battle through
But it will be a while yet before it begins.
Wesley was & is
One of a kind

I love you so very much Wesley
I miss you every minuet of every day
But I know, I'll see you again
someday.......

During your journey on your final flight home.
White wings will carry you and you will be flown.
To the pearly gates of Heaven, where they will usher you in.
To the feet of your Lord, your Saviour, and your friend.
He will hold you in his arms and the angels will sing.
As another one of His children is delivered by white wings.



Do not stand at my grave and weep
I am not there.I do not sleep.
I am a thousand winds that blow.
I am the diamond glints on snow.
I am the sunlight on ripened grain.
I am the gentle autumn rain.
When you awaken in the morning's hush
I am the swift uplifting rush
Of quiet white doves in circled flight.
I am the soft stars that shine at night.
Do not stand at my grave and cry;
I am not there,I did not die.


When I am gone, release me, let me go
I have so many things to see and do
You must not tie yourself to me with tears
Be happy that I have had so many years
I gave you my love, you can only guess
How much you gave me in happiness
I thankyou for the love each have shown
But now it is time I travelled on alone
So grieve a while for me, if grieve you must
Then let your grief be comforted by trust
It is only for a while that we must part
So bless the memories in your heart
I will not be far away, for life goes on
So if you need me, call and I will come
Though you cannot see or touch me, I will be near
And if you listen with your heart, you will hear
All of my love around you soft and clear
Then, when you must come this way alone
I will greet you with a smile and a
"Welcome Home"


I'd like the memory of me
to be a happy one.
I'd like to leave an after glow
of smiles when life is done.
I'd like to leave an echo
whispering softly down the ways,
Of happy times and laughing times
and bright and sunny days.
I'd like the tears of those who grieve,
to dry before the sun
of happy memories
that I leave when life is done


I'll lend you for a little while
A child of mine, God said
For you to love the while he lives
And mourn for when he's dead
It may be six or seven years,
Or forty-two or three
But will you, till I call him back
Take care of him for me?


God is ever near to those
Who have a broken heart
Through the loss of someone dear
That tears your world apart
It seems so overwhelming
The grief too much to bear
But know that God is with you
He loves you and He cares


"Losing a child is one of the most heartbreaking of storms to blow upon a person's life. While there is never anyone who can take that child's place in the heart, memories can sometimes help one through.

This poem was written with those in mind, the little angels who have touched our hearts, kissed our lives, and who have left us, to become an Angel in the heavenly realms, waiting for loved ones to greet up with again, some day


Today, I awoke with memories of you,
our days were too short,
our memories, far too few.
Every season which passes,
each anniversary of that day,
I look up to Our Father,
and I begin to pray.
O, Father in Heaven,
hold my baby close;
And give my child the love,
which they need the most.
Allow my child to look down
and see us here below;
May all the love we bear,
be theirs to know.
I realize that with You, Father,
my child is even more blessed;
But, it's difficult, you see,
as we do our very best.
To live each day,
without them in our view,
but I know my child is happier,
up in Heaven, with You.
Take my child by the hand, Dear Lord,
and give to it a flower.
And tell my child that we still cherish and love,
and are so happy that they were ours. We borrowed our dear one from You, for just awhile,
savoring each moment we had;
They're all safe now, away from every harm,
and we are ever so glad.
Touch our hearts, Father,
and mend all the broken pieces.
And may the love we hold for our child,
extend to others, as it reaches,
Out to the hurting,
those who are grieving and in the same pain,
and may we feel Your mighty embrace,
as we remember once again.
May we linger safely until we, too,
cross upon the Golden Strand,
and there to greet us on one side will
be Our Sweet Jesus,
and on the other, our little Angel,
with an outstretched hand.
by sandra pringle







From Heaven's Windowsill
In my life, I walked with you awhile.
I hope, somehow, in some way, I brought to you, a smile.
Even though my journey was mine, my very own;
I'm thankful that along my path, I did not walk alone.
I leave you with a legacy,
a legacy of my love;
And, I hope that in the days ahead,
I've left you with memories enough.
As my journey ends, a new pathway for you, begins.
Remember all that we have shared,
and all the places that we have been.
I now approach the Master's garden gate,
it swings wide, for me to walk through.
As I enter my final destination,
I take with me, all the love I have received from you.
Go forward now, upon your journey,
do not stop, or remain there still;
Experience life for the time that you have,
I'll be waiting and watching,
from Heaven's windowsill

You may hold a child's heart forever,
but you can't always hold onto their hand.
You must lead them, guide them, love them,every day, in every way you can.








When they grow up and move away,
a piece of you goes, too.
You just hope that they'll always remember,
the fragments of love, instilled by you. You hope that they'll remember,
that life is not all about self gain.
You hope that they'll remember,
to cover their heads, while out in the pouring rain. You hope that they'll remember,
all the fun times they've had.
You hope that they'll remember to seek the Lord,when times are both good and bad.
You may hold a child's heart forever,
but you can't always hold onto their hand.
You must lead them, guide them, love them,
every day, in every way you can.


When the warmth of the sun touches my face,
I see your smile and feel your embrace.

I hear the whisper of love in the wind
And I know that you are close to me again

On the night the Angel came and took your hand,
We cried as you left for an unknown land.

But Heaven rejoiced as you came into sight,
For your soul was a diamond, shining so bright

As the days come and go and the world moves on,
I know you're still here, you'll never be gone
IL ALWAYS LOVE AND MISS YOU WESLEY
know matter how many years
pass il carry you in my heart

Those we love are never really lost to us--
we feel them in so many special ways--
through friends they always cared about
and dreams they left behind,
in beauty that they added to our days...
in words of wisdom we still carry with us
and memories that never will be gone...
Those we love
are never really lost to us--
for everywhere their special love lives on.

I thought of you with love today but that is nothing new
I thought about you yesterday and days before that too,
I think of you in silence I often speak your name
All I have are memories and your picture in a frame
Your memory is my keepsake with which I'll never part
God has you in His keeping I have you in my heart.







no fare well words were spoken,
no time to say goodbye, you were
gone before we knew it, and only
God knows why
The memory of a good person
is a blessing.

Grieve not, nor speak of me with tears, but laugh
And talk of me as if I were beside you. I loved You so—'twas heaven her with you


The guardian angels of life sometimes fly so high as to be beyond
our sight, but they are always looking down upon us."



You can shed tears that he is gone,
Or you can smile because he lived,
You can close your eyes and pray that he will come back,
Or you can open your eyes and see all that he has left.
Your heart can be empty because you can't see him
Or you can be full of the love that you shared,
You can turn your back on tomorrow and live yesterday,
Or you can be happy for tomorrow because of yesterday.
You can remember him and only that he is gone
Or you can cherish his memory and let it live on,
You can cry and close your mind be empty and turn your
back,
Or you can do what he would want: smile, open your eyes,
love and go on.



Angel wings lifting high,
taking prayer to God for you and I.
Whispers of rustling around the throne,
Angel thoughts how they've grown.
Always eager to protect and guard,
Watching over us like children in the yard.
Angel voices soft and sweet,
Cast each prayer at our saviour's feet.
Is that a brush of an Angel's wing I feel?
While in prayer I reverently kneel.
Hovering right by my side,
Bringing God instructions gently guide.
These heavenly beings full of light,
Truly miracles in flight.
Angels, angels all around,
From here to heaven they aband.
Sit quietly and listen for them to speak,
If is is wisdom you truly seek.
Once again I kneel and pray,
For friends and loved one in need today.
Angels to heaven quickly fly,
Watching over you and I.


During your journey on your final flight home.
White wings will carry you and you will be flown.
To the pearly gates of Heaven, where they will usher you in.
To the feet of your Lord, your Saviour, and your friend.
He will hold you in his arms and the angels will sing.
As another one of His children is delivered by white wings

Do not stand at my grave and weep
I am not there.I do not sleep.
I am a thousand winds that blow.
I am the diamond glints on snow.
I am the sunlight on ripened grain.
I am the gentle autumn rain.
When you awaken in the morning's hush
I am the swift uplifting rush
Of quiet white doves in circled flight.
I am the soft stars that shine at night.
Do not stand at my grave and cry;
I am not there,I did not die.


When I am gone, release me, let me go
I have so many things to see and do
You must not tie yourself to me with tears
Be happy that I have had so many years

I gave you my love, you can only guess
How much you gave me in happiness
I thankyou for the love each have shown
But now it is time I travelled on alone

So grieve a while for me, if grieve you must
Then let your grief be comforted by trust
It is only for a while that we must part
So bless the memories in your heart

I will not be far away, for life goes on
So if you need me, call and I will come
Though you cannot see or touch me, I will be near
And if you listen with your heart, you will hear
All of my love around you soft and clear

Then, when you must come this way alone
I will greet you with a smile and a
"Welcome Home"


Remember me when I am gone away,
Gone far away into the silent land;
When you can no more hold me by the hand,
Nor I half turn to go, yet turning stay.
Remember me when no more, day by day,
You tell me of our future that you planned:
Only remember me; you understand
It will be late to counsel then or pray.
Yet if you should forget me for a while
And afterwards remember, do not grieve:
For if the darkness and corruption leave
A vestige of the thoughts that I once had,
Better by far you should forget and smile
Than that you should remember and be sad.

I'd like the memory of me
to be a happy one.
I'd like to leave an after glow
of smiles when life is done.
I'd like to leave an echo
whispering softly down the ways,
Of happy times and laughing times
and bright and sunny days.
I'd like the tears of those who grieve,
to dry before the sun
of happy memories
that I leave when life is done


"Should you go first and I remain
to walk the road alone
I'll live in memory's garden, dear
with happy days we've known
in Spring I'll wait for roses red,
when fades the lilacs blue,
in early fall, when brown leaves call I'll catch a glimpse of you
Should you go first, and I remain
for battles to be fought,
each thing you've touched along the way will be a hallowed spot
I'll hear your voice; I'll see your smile, though blindly I may grope
the memory of your helping hand
will buoy me on with hope
Should you go first and I remain
to finish with the scroll,
no length'ning shadows ahall creep in to make this life seem droll
We've known so much of happiness
we've had our cup of joy,
and memory is one gift of God
that death cannot destroy
Should you go first and I remain,
one thing I'd have you do;
walk slowly down that long, lone path, for soon I'll follow you
I'll want to know each step you take that I may walk the same,
for some day down that lonely road
you'll hear me call your name

We little knew that morning that God was going to call your name,
In life we loved you dearly,in death we do the same.
It broke our hearts to lose you, you did not go alone.
For part of us went with you, the day God called you home.
You left us peaceful memories, your love is still our guide,
And though we cannot see you, you are always at our side. Our family chain is broken, and nothing seems the same,
But as God calls us one by one, the chain will link again

The smell of him went soon
From all his shirts.
I sent them for jumble,
And the sweaters and suits.
The shoes
Held more of him; he was printed
Into his shoes. I did not burn
Or throw or give them away.
Time has denatured them now.
Nothing left.
There will never be
A hair of his in a comb.
But I want to believe
That in the shifting housedust
Minute presences still drift:
An eyelash,
A hard crescent cut from a fingernail,
That sometimes
Between the folds of a curtain
Or the covers of a book
I touch
A flake of his skin.

In memory of those who died
We weep and walk away.
Tears run into swollen streams.
No trace of us remains.
Even those who grieve are gone,
And those that grieve who grieve,
And those whose lives are ravaged by
A frantic urge to be,
And those who wander silently
Among the empty rooms:
Immortality is theirs,
Though they must vanish, too.
We bear astonished witness to
The passage of the soul.
No bridge exists that can connect
Our passion to the whole.

I cannot think you're not alive somewhere.
I think of you just as I did before.
No sudden gust of wind has closed the door
Or made your presence vanish in thin air.
I write you this because I know you're there;
That even after death there must be more.
So does faith one's inner sun restore
After bitter darkness few can bear.
My mind and heart have not yet lost a friend
Even though my senses are bereft,
For you remain the witness of my soul.
No mere accident our love can end
So long as I have will and memory left,
And you lie silent on some unknown shoal

Death is nothing but a moment's rest
Until the Second Coming of the Lord
When He shall gather to Him of the best
To take them to the place of their reward.
I've felt the power of Jesus in my soul
Shining like a golden sun within,
Melting my hard heart to make me whole,
Burning out the remnants of my sin.
I've felt Him work within me, so I know
The glory that will come when I awake.
I'll sleep just like a child who'll homeward go,
And in my dreams of love great pleasure take.
So do not mourn my death, and do not grieve.
The Lord will come for me: This I believe

If tears could build a stairway,
and memories a lane, I'd walk
right up to heaven and bring you
home again.


FOREVER GENTLE ON MY MIND
Since youve gone fom me,
my heart has ached for you each day
For, I loved you truly, you will find.
Tears fall often, for, you know the memories are sweet
You're forever gentle on my mind.


When i think of you, I hear your soft and tender words.
You're forever gentle on my mind.
Never got to hold you , never even touched your face,
never got to say goodbye my son

You're forever gentle on my mind.
Maybe there will come a day my spirit will not grieve,
And I leave the ache for you behind
that day will be when we are together again
But my soul will always keep you safe , and here with me
You're forever gentle on my mind


There's an Angel at my shoulder,
And he keeps me safe at night
With his flaming sword of fire,
With his wings of silver light
Theres an Angel walks beside me
Who protects me as I go
Picks me up if I have fallen
And he guides me, this I know.
Theres an Angel with me always
Though I often will not hear,
When I stray off from the path,
he stays by me , calms my fear.
Theres an Angel at my shoulder,
And beside me he will stay
And if I but let him lead me,
I will never lose my way


Click here to see Wesley McGoldrick's

Family Tree
| | |
| --- | --- |
| Tributes and Condolences | |

FOR YOU WESLEY


CANDLE IN THE DARKIf the night seems too darkAnd you feel aloneAnd you think the road aheadIs just too longIf you feel you need someoneThat you can lean onI'll be there to help you walk onI'll be your candle in the darkThat old oak tree ... Continue >>

FOR GINA


Guardian Angel In this lifetime, you gave me all you had to giveAnd I never doubted for one momentJust how much you caredAnd through all the pain, you put a smile upon my faceI wouldn't change it if I couldFor you showed me God's grace You were... Continue >>

hi hun stay close


When you walk through a storm,Hold your head up high,And don't be afraid of the dark.At the end of a storm,There's a golden sky,And the sweet silver song of a lark.Walk on through the wind, Walk on through the rain,Though your dreams be tossed ... Continue >>

THINKING OF GINA


Years fly by like autumn leaves,But heartache and tears remain,All gina ad family have left is precious memoriesOf you, for today, for tomorrow,And until my life is throughMonths have grown day by day,It's now a year since he we... Continue >>

Gone but Lives on in the Hearts of Loveones


sweet angel Wes remembered always should of known it was nearing your Angel date As the Dragon fly Arrived yesterday no it you beautiful mum memory of her preious Wes Good blessing surround your family as your 10th Anniversary arrive... Continue >>
Dear wesley Read >>
slumbered amongst the Lord Read >>
Wes just see your nanna join her grandson Read >>
Thinking of you Precious Wesley, Read >>
Wesley 6TH Annivarsary in Heaven Read >>
rd Read >>
NEVER MORE THAN A BREATHE AWAY MUM Read >>
Always in Our Memories Read >>
Merry Christmas...Thinking of you...xx Read >>
BLESSED EASTER DAY Read >>
| | |
| --- | --- |
| His legacy | |

BBC NEWS REPORT


Last year 78 men, women and teenagers killed themselves in prison in England and Wales. Half of them were on remand awaiting trial, or sentencing.

This was the case with Wesley McGoldrick, who was caught shoplifting cheese and milk from a London branch of Sainsbury's on Saturday 16 April 2005.

When he admitted also carrying a knife, the 24-year-old was arrested and charged. As he had no fixed address to be bailed to, after a weekend in a police station he was remanded into custody at Brixton Prison.

By the Tuesday afternoon, less than a day after his arrival at the jail, he was dead, having used bed sheets to hang himself from the bars of his cell window.

He was the 21st person to kill himself in prison in England and Wales that year. Another 57 were to follow.

The Prison Service says it is "completely committed to reducing the number of such tragic incidents" but a combination of circumstances make this a difficult task.

He was a real person and was my son but while they're in prison they're nothing, they're just a number

Gina Webb, Wesley McGoldrick's mother

The set of factors that surrounded Wesley's death are "sadly all too common" according to Deborah Coles, co-director of Inquest, a pressure group which provides support to families in deaths in custody cases.

He was a young male who had recently been remanded into a local prison - features which "are well known to the prison authorities for being over-represented for the number of people dying," she said.

Almost a third of suicides occur within the first week of someone arriving in custody and one in seven is within 48 hours.

Remand prisoners are likely to be placed in a local jail, many of which are overcrowded and may lack the staff or resources to provide intensive support for new inmates.

'Found dead'

The first Wesley's mother, Gina Webb, knew of her son's death was when her daughter turned up on her doorstep in the early hours of the morning, flanked by two police officers and sobbing hysterically.

The only information the officers had was that Wesley had been "found dead" - at that point neither Gina nor the police knew he was in jail.

"I had nothing to go on, just that one statement thrown in my face," she said.

"'Where did it happen? How did it happen? Was it an accident? Was he murdered?' It didn't matter what I asked, the answer was 'Sorry, we don't know'."

It was another day before she found out what had happened and a further day before she could identify the body.

'Signs of paranoia'

Once a keen athlete and footballer, Wesley had drifted into homelessness in his early 20s.

He had taken catering work with live-in positions but couldn't settle and the nature of his work meant that if he lost a job he also lost his home. His mother says she begged him to come back to the family home in Ruislip, Middlesex, but he would not.

PRISON SUICIDES 2005

78 deaths in England and Wales

8 deaths in Scotland (2004/05)

37% on remand awaiting trial

12 were under 21 years of age

Youngest was 16

Four were women

80% were in local prisons

131 people resuscitated after acts of self harm

Source: Howard League

He was sleeping rough at the time of his arrest and Gina suspects he "wanted to get caught so he would have a roof over his head for the weekend".

Evidence heard at the inquest into Wesley's death indicated he had mental health issues. Gina believes her son's crime and his last desperate act were "a cry for help".

Officers at Kennington police station, where he was taken on his arrest, were sufficiently concerned about his state of mind to call a doctor who noted "signs of increasing paranoia".

However, the doctor's note was not seen by anyone at Brixton prison, the inquest heard.

An investigation recommended changes in procedure at Brixton

Staff there said they judged Wesley's mental state based on conversations with him and the answers he gave to a medical questionnaire.

Neither gave any cause for alarm, they said, even though he admitted self harming previously.

Under the prison's own procedures this meant he should have been referred for a mental health assessment but this did not happen and he was not placed on suicide watch.

An investigation by the prison ombudsman recommended that mental health assessment training at Brixton was tightened up.

The governor of the prison, John Podmore, said "all prisoners undergo a comprehensive screening process" which "examines all aspects of mental and physical health as well as drug and alcohol issues".

He added: "We are working hard... to provide the highest standards of care for prisoners and continually looking to see how that provision can be improved.

"Tragedies such as the death of Mr McGoldrick cause us to look even harder particularly in the light of reports emanating from these events... our sympathies once again go to the family of Mr McGoldrick."

Fall in suicide rate

Suicide and self harm is recognised as one of the toughest challenges facing the prison service. A study in the Lancet found the male suicide rate in prison was five times that in the general community.

The 2004-05 annual report from HM Chief Inspector of Prisons observed: "The pressure of population, the reactive culture in some prisons and the vulnerability of many of those in prison, will continue to make it difficult for prisons properly to protect those in their care."

But some headway does appear to be being made: the total number of suicides fell last year from 95 in 2004 to 78, a welcome drop after three years of record levels of self-inflicted deaths.

It comes as prisons are beginning to implement a new system known as ACCT - assessment, care in custody and teamwork - which replaces the old suicide watch forms and is designed to be more focussed on the individual.

In addition, a new health screening process has been set up that is designed to detect mental health issues on arrival into custody.

Many jails now have several "safer cells" designed to be as free from potential ligature points as possible.

And the majority of prisons also run Listener schemes in which Samaritans-trained prisoners provide 24-hour confidential support to other inmates.

Prevention measures

A Home Office spokesman said "Every death in custody is a terrible tragedy for the families left behind and also has a profound effect on staff and other prisoners.

"The government takes the issue of suicide in prisons very seriously and, in the face of population pressures, suicide prevention efforts have continued with unprecedented energy and commitment."

But Gina Webb is still angry at a system which she believes failed Wesley.

"He was a real person and was my son - they all belong to somebody, they're somebody's husband or somebody's son. But while they're in prison they're nothing, they're just a number," she said.

"What ever reason they're in there for, they're in there. The state has a duty to care for the people they're supposedly looking after and quite frankly they haven't done it."

WESLEY ROY MCGOLDRICK





To all of you out there who want to know about Wesley
and how he has come to no longer be here.

I have been putting this off for some time now, not knowing how to say it or how to explain it, to myself and to everyone else. I want to thank each and every one of you who have lit candles (some of you on a regular basis, some of you practically every day) and for all the tributes and messages. You cannot know how much all this has meant to me. I was worried that in time he may be forgotten, but I need not worry because he is thought of every single day, not a day goes by without someone lighting a candle or sending a message to him or to me. Thank you so much for all this, it's you out there that has kept me going all this time.

THANK YOU ALL SO MUCH


WESLEY ROY

Wesley is my youngest child of 3, he has an older brother Greg and an older sister Claire. He also has a beautiful neice, Kai, who is now almost 6 years old.

After attending Whiteheath Infant school and taking part in all the sports days and coming 1st in all he did he went on to Whiteheath Junior school and continued to do the same there, also running for the school, the borough etc.
Although his brother and sister went on to the same Senior school, I decided that as Wesley was so into his sports to send him to a different one, so he went to Queensmead Senior school as it catered for sport in a big way.
Yet again he came 1st in all he did, again running and playing football for the school, the county, the borough. He was a brilliant all round athlete. The love of his life being Liverpool football club, which in turn caused a subject of debate between him and his brother....Greg always said "if you are going to support a football club then it has to be one of the London clubs, because that's where we live, How can you support a club that is at the other end of the country"...but Wesley would have none of it and continued to support Liverpool no matter what anyone thought....so he did.

Wesley knew everybody and everybody knew Wesley.
He was such a popular person.

But even though he was popular, deep down he was a very quiet guy.
Very loving.....

After leaving school he drifted in and out of work, staying here and staying there.
That was the end of the sport but he continued to follow Liverpool.
He left home, carried on drifting from one job to the next but it didn't always work out and I found out that sometimes between jobs he would be sleeping rough.
But he always managed to fend for himself and was determined not to ask for help from anyone, including me.
Although I carried on seeing him at regular intervals and gave him food and money when he needed it, he still wouldn't come home........
so stubborn!

For a quite a while before last April (2005)
he was still homeless and drifting around and there was less and less work for him, which obviously led to some sort of depression.
(I think anyone in that situation is entitled to be a little down or depressed)
I tried to force his hand to come home. I would leave the back door open for him every night in the hope he'd come in to sleep, he knew this but still never took up the chance. Instead he carried on in his own way.....
not wanting to bother me, or others with his problems....

On the Saturday before he died, he went into a supermarket in London and stole some cheese to eat. He was hungry, he got caught and the police arrived to take him away.Though not for the fact that he had stolen but more so for the fact that there was a knife in his pocket. He did not show anyone the knife, didn't brandish it about or threaten anyone with it, it was for self protection while he was sleeping rough...to frighten of anyone who might come near. He has never hurt a living soul before, even though others have hurt him in the past, he never had it in him to harm anyone or anything.

On arrival at the police station, he began asking for help and suggested he should be sent to prison for a long time.
He stayed there all weekend til it was time to go to court on the monday morning. One young police officer was worried for Wesley and got him checked out by a doctor. He then befriended Wesley, talking to him and generally looking after him. He even took him to the police kitchen and cooked him something to eat, when he should really have been locked up in his cell til monday....
not the actions of a regular police guy......so you see, he was no harm to anyone.

Monday morning
Wesley went to court and the courts decided that he should go to
BRIXTON PRISON
for 7 days
so he went.......

.......BRIXTON PRISON........

The 1st thing that happens when you arrive is that you are checked out by medical staff, forms filled in etc.etc.
Now they knew that the police had concerns about Wesley, enough to call in a doctor and have him checked out, but the prison did not take this into account. Also he answered a questionaire at Brixton regarding his health.
This questionarie states that if "box 12" has been ticked then this guy needs to be put on an "F2052SH"...this to you and me means a suicide watch, just in case.This never happened and Wesley was left to his own devices in his cell.

Bear in mind that he is only going to be in there for 7 days.
(Statistics show that if anything is likely to happen that it will in the 1st week for most, or in the 1st month, therefore an "F2052SH" is imperitive!)

Bear in mind, also, that Wesley obviously stole on purpose. With the intention of getting caught, knowing he would be in the police station all weekend.
This was, he would be guarenteed a roof over his head for at least a couple of nights. Whilst there he began asking for help.
He also asked for help at Brixton and this was ignored.
Principally by the medical staff when he arrived because they were not bothered with him, in fact, they were not even properly qualified to be doing the job they were in (as was proven at Wesleys 5 day inquest).

Right, so he has now arrived in his cell in the prison and it is approximately
7 or 8 pm .

The following day......
Two inmates heard someone calling out for help, about the time everyone had got their lunch and were locked up in their cells again.
They alerted the nearby guard, who said he heard nothing, therefore nothing was done about it and nobody went to investigate.

Wesley knew that lunch was for 1 hour, then his cell would be unlocked.
But that particular day, there was a delay in opening the cells.
When they did.....
they found Wesley......my son.....
hanging from the bars of his cell...................

This was yet another cry for help
nobody listened
Wesley died

Wesley used a towel to protect and cushion his neck, something not normally done in this situation. He thought he would be saved in time....
He thought wrong!
They didn't even bother to call emergency services straight away.
Some witness accounts said he was already cold,
some say he was still warm
He could of
He should of
been saved.

He was put into the care of the state
the state let him down right from the beginning
He died by the Hands of the State!!!

The Chaplain and the Governor of Brixton prison
(by the way, a very notorious prison)
apologised for the death and told me they were shocked as this sort of thing
never happens, it is very rare.....

It is NOT rare!!
76 new inmates did the self same thing last year alone!!
That is more than one person per week!!
(Most, in the 1st week or so of entering prison)
So far this year (2006) it's still at a rate of one per week or more!!

Wesley was in there for just 18 hours


A 5 day inquest by jury was held in London last week
they returned an OPEN verdict.
Meaning they couldn't decide whether or not they thought Wesley meant to go through this act deliberately,
or whether it was a cry for help, therefore an accident, even though most of the evidence pointed that way.........

In 27 days time, Wesley will have been gone for 1 year
and in all that time,
not one person, apart from myself has accepted or admitted any liability.

Shame on the Prison service!!!

I sincerely hope that it never happens to someone belonging to them!!

To anyone who has taken the trouble to read this far...
Thank you so much for your patience......

WESLEY....ONE OF A KIND


Wesley's Photo Album